Channeling his contribution to the lion king soundtrack 16 years ago, Elton John sings the African intro to the movie where the lion sits on the mountain top and all the animals perk up. In this case, however the only thing perking up is a swarm of gays in pastel speedos worshipping at the altar of 60 year old gay cock.
As Elton serenades one pillow biter in particular he tells him "Mr. Purple you've always been my favorite now show daddy some love." :Ain't that some shit!" said the black gay in the background feeling slightly left out.
"Thaat's it purple…get your footing aaaaaand Suck it," Elton sings. "Tsss…what about me?" complains red. "Oh no no no.." continues black in the back.
Black in the back can no longer hide his rage at being upstaged by two wiry white guys, especially when one of them has chest hair like Blanka from Street Fighter II.
"You're my favorite now, Gray cock-n-balls" Gray C-n-B knew he had it in the bag when he did his signature Magic Johnson sky-hook-look-of-disinterest combo.
"Daddy loves him some gay sky-hook!" Jilted purple can't hold back his shock and heart break, especially after performing ballet-fellatio on Elton…..rocketman jizz still fresh on his soul patch.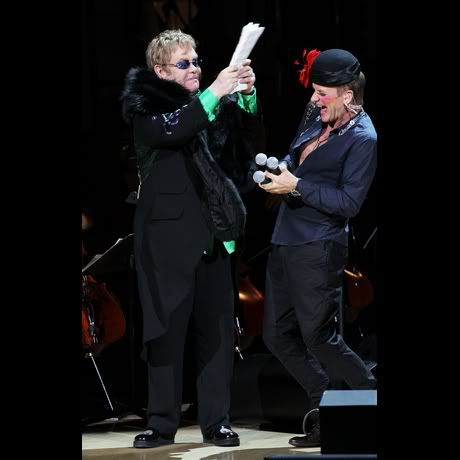 A cross-dressing Sting can't stand being left out of the fun and games and storms the stage. Using three microphones he does his best impression of Elton in the bathroom five minutes ago…"Look I've got three cocks in me hand!" Elton swats him on the head with a newspaper for being naughty while pretending to be outraged.
Justin Bieber, who attended the show and found himself in the bathroom with Elton, was asked how many cocks he made disappear in various holes.
Spencer Pratt, who couldn't be seen at a gay event, went incognito as a bum outside the theater by putting on his camouflaged hat and holding an armful of trash, not thinking that his $10,000 gold Rolex would give him away. Using his binoculars with his flesh-colored beard he tries to catch a glimpse of the festivities.
"Yeah, that's right…I got a watch on my right arm too….both of them synched to "awesome"
Britney Spears attended a tour of the Elvis estate in Memphis,Tennessee when she had to stabilize herself on a golden shelf in order to keep the pending "shart" from going nuclear. Seriously, what the hell is she wearing? Boots with the toes cut out, a pair of guy's underwear, tank top and lips tattooed on her wrist? Trailer-chic.
"Oh my Goood ya'll…that Britney shart was brutal. It hit me right in my face hole right here!"
The "shart heard round the world" even hit Tom Cruise on the set of "knight and day." "What is that mesmerizing aroma," Tom stated. "It's like a mix of red bull, a cheese-chili-dog, and Xanax….Did Lindsay Lohan open a new lunch cart?"
"WHaaaat?" Lindsay was quoted as saying in response to Tom's query, as she updated her facebook status via I-phone. "Lindsay became a fan of walking with two beverages while wearing a Russian t-shirt."
Lindsay Lohan was almost side-lined by the Britney shart but was able to wave it off thanks to her leopard skin shirt and Xena warrior princess mood ring. "Guys that shart made the chalupa I had a few hours earlier bubble to the top. " I wanna save you the stank and get rid of this monster in an honorable way."
Linday's bodyguard, Tyrone monitors Lindsay's directional ass blast into the limo with concern that it doesn't turn "wet" claiming "I didn't sign up for this shit" afterwards. Hey who cares about the driver?
"Yeah so the driver should be coherent in an hour or two after that anal rampage, just enough time to embarrass myself in whatever club I'm heading into now. Does anyone have a jergens hand wipe so I can take a quick hooker shower?"
Scared that her "keeping up with the Kardashian's" gig will soon be up Khloe decides to cement her future income by getting pregnant with hubby Lamar Odom's baby. Considering that the entire family failed sex-ed class, Kim collected some of Lamar's semen after a particular sexy lay-up and administered the jizz to Khoe's gargantuan face using the purple vitamin water applicator. "Easy street here I come…gurglelahhaggghllele" Khloe was quoted as saying.
As per court mandate, Lady Gaga is forced to wear a muzzle (which she bedazzled herself) while signing autographs with her blue sharpee after it was found that her saliva was laced with jizz, blood, arsenic, and mountain dew.
Little Jose is a little wary of the muzzle's effectiveness after his cousin paid $20 to have Gaga sign his head. "I don't know if dees muzzle is working correctly because my head is tingling of sharpee, aids, and regret…..dios mio!"
Jenna Jameson forces her best smile in lieu of allegations that Tito Ortiz beat her about the face and man handled her arms to the point aggrevated bruising. It's like they say, nothing cures what domestic violence ails you than a bow in your hair and surfing a sweet wave with your yellow board.
Miley Cyrus uses a backdrop of colorful peacock feathers to take the onus off of the idea that her dad is famous for a shitty musical single and the fact that guys are beating off to an underage girl. A party in the USA indeed. "Achy Breaky Anus" to be released after Joe Billingsworth's memoirs are set to music for being imprisoned for statutory jerking it to VH-1.