So I think this post is a little weak, but that's ok because they all can't be great. I hope you comment if you like it. Soon I will be moving this blog to a new website that combines both the podcast and the blog. It always cracks me up so hopefully it makes you chuckle. Suck it, people.
The Octomom shows off her breast enlargement and new wicker fedora in a new photo shoot showing off her amazing body? Her stomach looks like the slab of meat the rocky beat up on during that training montage. Also, why does her mouth look like Jack Nicholson's Joker?
Mischa Barton has her gloveless fingered makeup artist cover up her hobo hickey as she points her dead eyes towards her drug supplier to dip her cherry lollipop into his travel dish of cocaine.
A nice bump of cocaine seems to be the only thing to keep her mind off the fact that she let the homeless "pants on the ground" guy suck on her neck in an attempt to leach off of his temporary fame.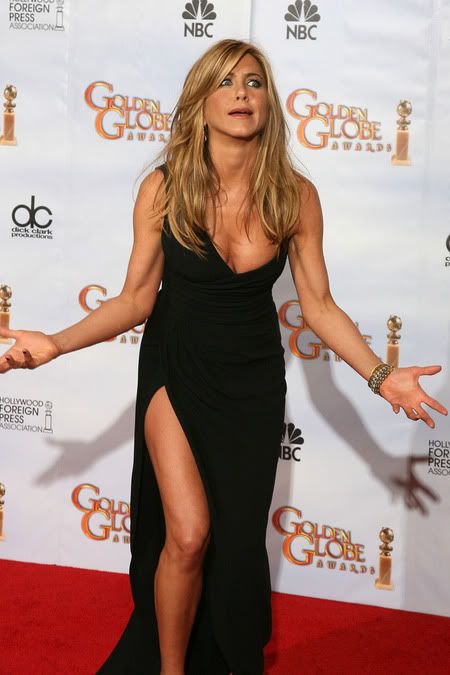 "Yes, I listened to John Mayer's shitty music while we were dating."
Carrie Prejean allows a scripted nip slip for the cameras to take the attention away from the lifeguard she just blew to get his tapioca consistency jizz out of her hair. "Babe, I told you it's been a while and I totally didn't know that my un-viscous jizz wouldn't come out after I dunked your head in the ocean."
Miley Cyrus's PR agent has a look of grave concern after she realizes that the paparazzi's cameras are now equipped with black light technology and totally picked up the remnants of the gangbang jizz fest (also the name of her new album). Miley does what she can to steady herself as she tries to walk smoothly while battling an achy and raw vagina.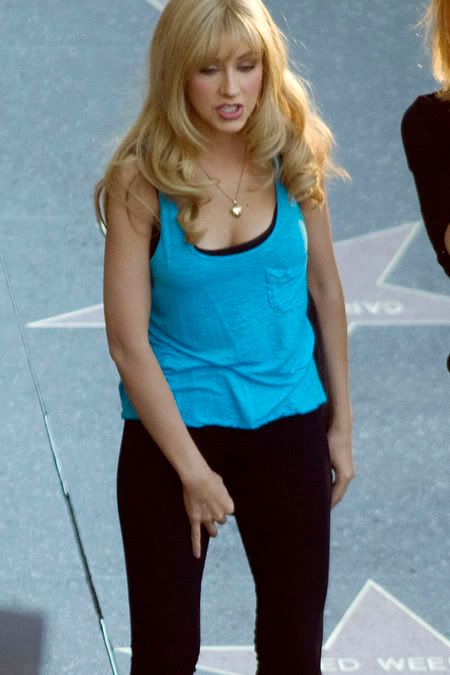 Christina Aguilera, always classy, attempts to pull the spandex out of her funbox so she can gracefully accept her new star on Hollywood boulevard. "Try Morningstar Douche-lube…for when you're feeling 'dirrrty'"
Heide Montag, tired of Spencer molesting her in front of cameras decided to bring a copy of her latest playboy spread as a buffer to keep Spencer occupied during the opening of the G.I. Joe movie. Just as a precaution she puts her mini purse in front of her vaj just in case Spencer realizes that he's just fucking a magazine.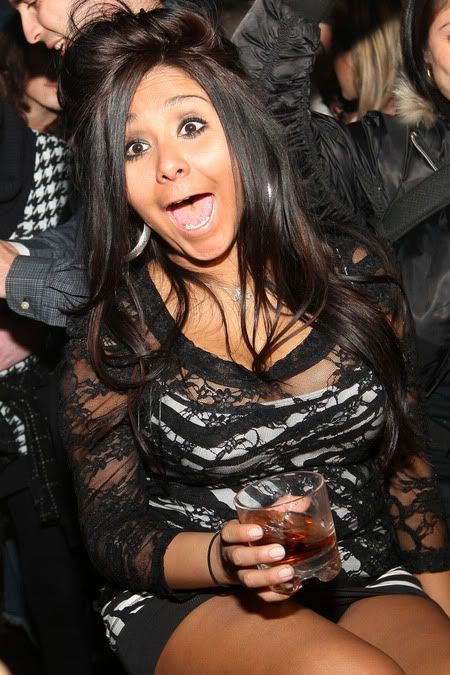 Snookie from the "Jersey Shore" is looking forward to a quiet evening alone when she realizes that the bartender used "early times" whiskey in her bourbon and root beer and decided it was Game On!
"That's right bitches…yeah…it's pole dancing time" The girl in the fedora quickly reaches for her camera to catch the impromptu "moose knuckle" while snookie's black bodyguard finally says "fuck it!"
Mel Gibson after watching Jeff Dunham's latest comedy special thinks that he can let loose a tirade of anti-Semitic comments and totally blame it on the ventriloquist beaver that he holds in his left hand. "fucking jews!"
Mel gives a look of defeat after being found out, after he realizes that "Dude, you totally have your hand all up in that beaver!" doesn't mean quite what it used to. It was only later that Mel realized that he couldn't sell it unless he was drinking a glass of water during the speech and not actually moving his mouth.
The crowd cheered Mark Mcgwire calling his swing into the stands ala Babe Ruth. It wasn't until later that they realized that he was merely signaling his roid dealer that along with his juice fix he wanted to give the dugout groupie the semi-shocker. That's two in the pink and not necessarily one in the stink. Go cards!
Tiger Woods attempts to revive his image by hanging out with quarterback Tony Romo. Little does he know that Tony is fearful of Tiger's horniness and immediately covers his nuts wondering whether or not he should take his name off his PHONE!!!
Tiger: "Seriously dude, I wasn't going to try anything and frankly you're making me look bad.
Tony: "I know bro…I hear what you're saying. I'll let you have your way with me in the locker room and don't worry I will erase your number from my voicemail."
Tiger eases Tony's fears by wearing his hat which indicates how many brown fingers he wants to put in Romo's balloon knot.
Tired of being the spokeswoman for domestic violence, Rihanna attempts to go incognito by wearing the carrot top "fun disguise" complete with silly red hair, shades, and wicker prop basket.
Rihanna meticulously removes the "sadness pubes" off of her tongue and places them on her plate of domestic violence memorabilia while wearing her strategically placed swimsuit that covers the bruises when Chris Brown was "letting off some steam."
Kate Gosselin in a post-divorce haze, crazily wheels her homeless "u promise" shopping cart full of bags of her own feces as a message to the t.v. execs that they promised to keep the show going.
Jessica Simpson's portly body guard blocks off the paparazzi coming in from the left side totally forgetting the sly crazed fan who goes for an impulsive boob grab under the premise of putting extra M&M's in her Louis Vitton bag.
After taking a public bathroom hooker shower, Lindsay Lohan does a quick cooter-taste to see if she's presentable enough for a night on the town.
"ssssso yeah…Lindsay just totally gave herself a frontal oil check before slithering into her camo pants." Lindsay's gay friend Lars said to his fag hag right behind him before attending the "homosexual shorty shorts, dredlock beanie, yellow man-purse extravaganza.
That's right folks….Seal cums chocolate.